Learning Nomads
Create a concept that allows students to learn outside from school and/or connect more strongly with the outside world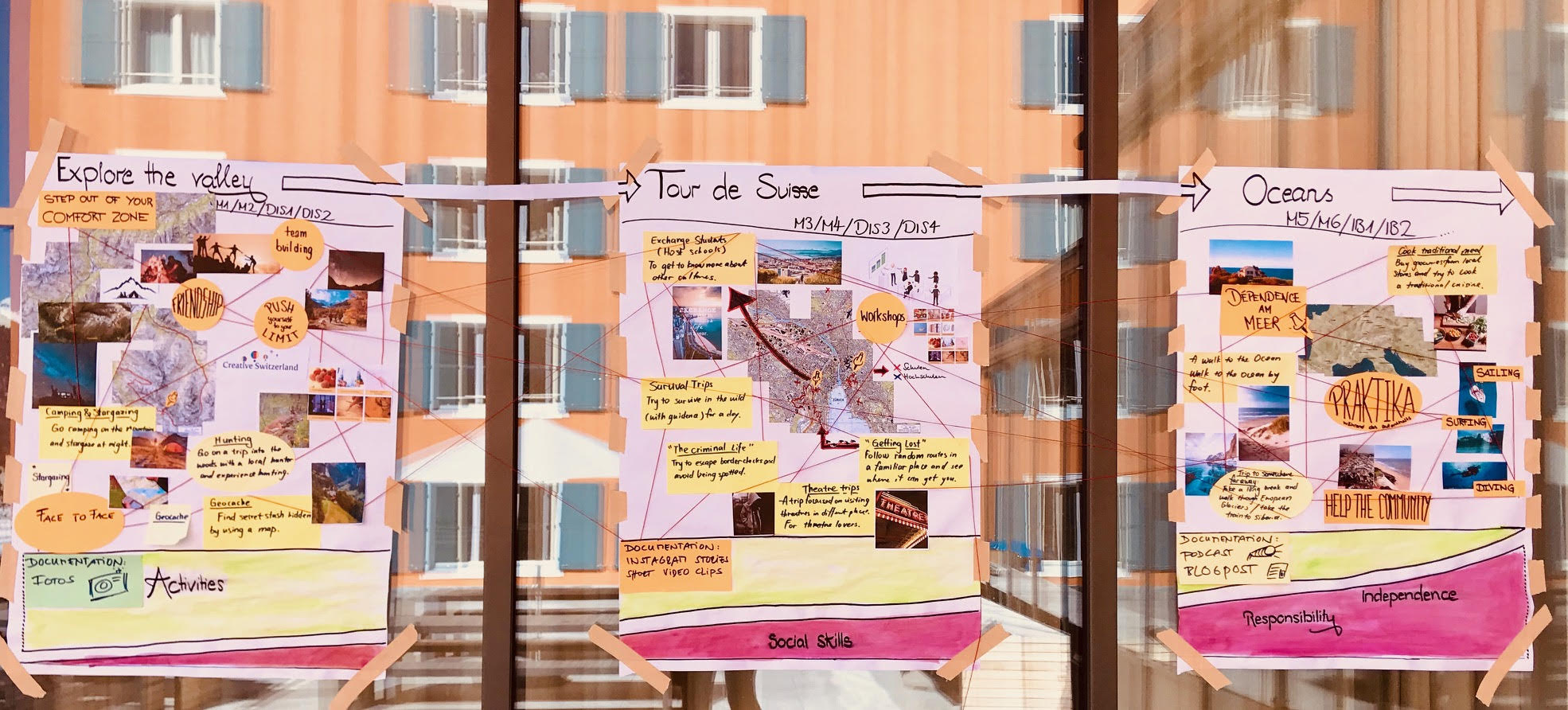 RESULTS
Presentation
Learnings
The Learning Nomads needs a framework and can then be implemented by every class.
This project can be easily implemented and scaled by other institutions.
The abstract expression "Learning Nomads" became within 8 minutes something very clear and concrete.
Learning Nomads is about changing location offline. Digital tools can only be used as a tool for documentation.
Achievements
We created a conceptual prototype for the "Learning Nomads". This program can be implemented at any time (if wished with individual changes) by the Lyceum Alpinum Zuoz or another school.
Team members - Karin - Christoph - Iwona - Tiziana - Madlaina - Margie
CHALLENGE
What's the problem you want to solve and why? We take up again the old idea of the educational journey and look for possibilities, how students can collect, hold and divide experiences "outside" - on a journey or expedition.
What's the solution / project you are suggesting? We are developing a project in which students learn on a journey or expedition in encounters with the "real world" and digitally process and share what they have learned. Our project outlines possible paths and goals, tasks and encounters and ex-amines variants of the documentation of what has been learned and experienced. In the process, space is also to be given to chance and encounters that are not explicitly sought after.
How could this idea be developed or tested at a 30-hours Hackathon? With the cooperation of teachers, students and programmers, variants of educational trips are "played through" and tools for support are sought.
Who are you? Iwona Fluda, Marketing consultant, founder of creative-switzerland.com Christoph Wittmer, Head of School
04.04.2019 09:43
Documentation
Worked on by Nikki
23.03.2019 13:30
Hackathon finished
22.03.2019 11:07
Documentation
Worked on by oleg
22.03.2019 10:00
Hackathon started
04.03.2019 07:56
Documentation
Worked on by Nikki
25.02.2019 12:46
Team forming
Karin A. Stephan has joined