Global School
Connect the school more strongly to the outside world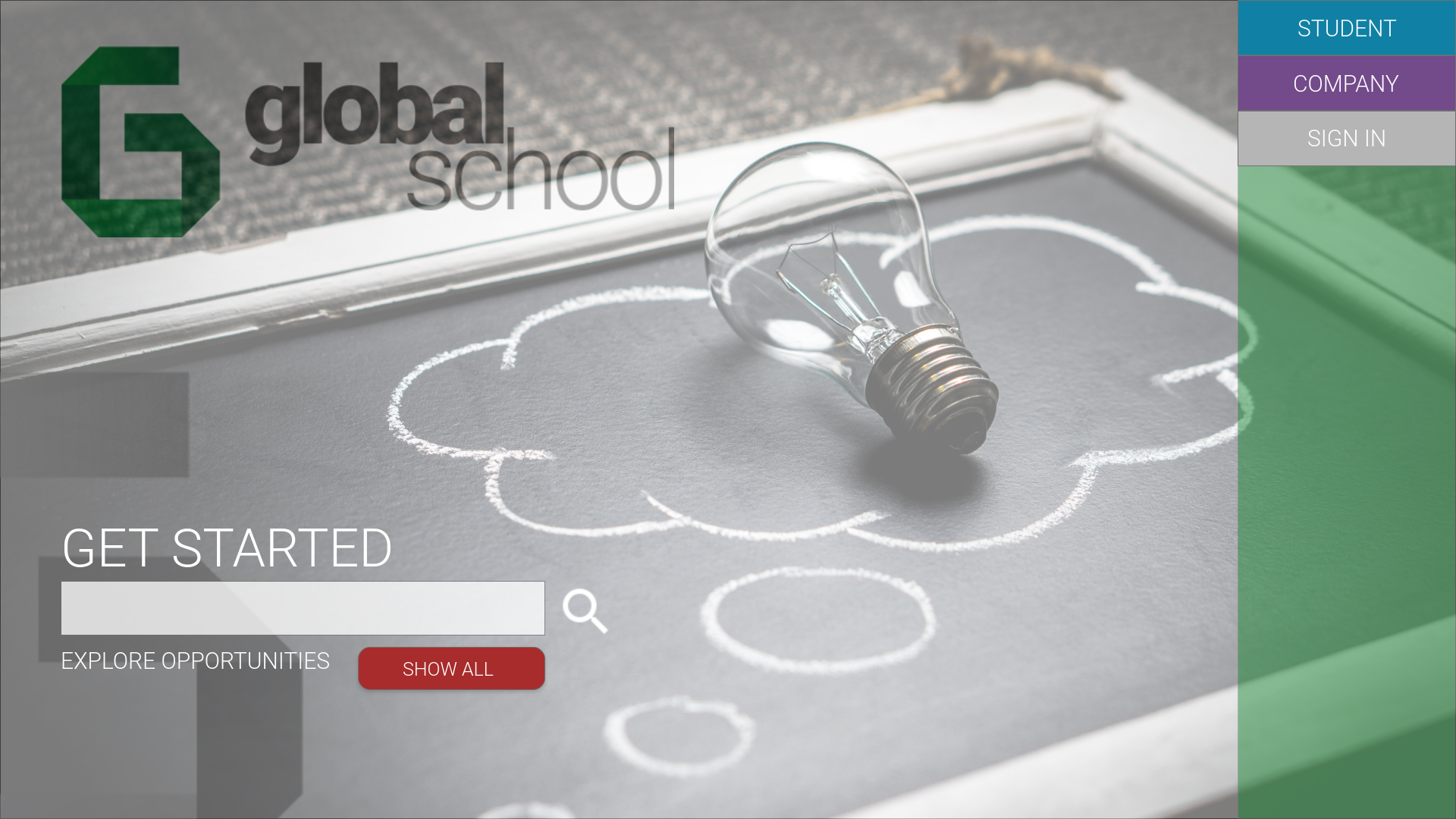 RESULTS
Presentation
Learnings
Students are eager to get in contact with professionals and universities. There are various possibilities to facilitate this connection. We decided to focus on one feature as a first step: project facilitation. That's covered the least by other parties and it's valuable for students as well as companies. Projects that could be posted on our platform by companies are e.g. practical, company insight, cases, challenges or research projects. Students with different backgrounds could either become participants of the projects or supervisors. Students will be able to improve and show their skills during a project work for or at a company. Thereby, strong and valuable relationships can be developed between students and companies. Without a platform, it would be very difficult for students to initiate such projects.
Achievements
We developed and present our business model
We created a mock-up of a platform interface and back-end, which would have to be integrated in future
Our team will continue to work on the development of this platform
Team members
Designer: Kenan Students of Lyceum Alpinum Zuoz: Gian, Jan Students from Swiss Universities: Shengyu, Tati Teachers in Lyceum Alpinum Zuoz: Harry, Nuria
CHALLENGE
What's the problem you want to solve and why?
Daily students are overwhelmed by the amount of theoretical information streamed through teachers and books; creating an imbalance in experience and bias towards the theoretical knowledge. With this project we aim to stabilize the proportion and introduce insights into industry and integrate experts to provide students with applied knowledge.
What's the solution / project you are suggesting?
A platform that integrates experts that are willing to support teachers and provide extra material, videos, explanations and workshops/visits to the schools to show how one or another topic is applied in the real life, and emphasize the importance of it. Students will have a possibility to not only reach out to experts from industry, but to take responsibility for organiz-ing events and case studies, as well as build up and expand existing community.
How could this idea be developed or tested at a 30-hours Hackathon?
At the Hackathon we will go through each step of design thinking process to come up with an optimal solution to the above mentioned problem, taking into account feedback from different customer groups about concept, functionality and the style of the platform. We will use wide range of tools that will help us conceptualise and iteratively improve the idea.
(https://mk0enterpriseirdbne0.kinstacdn.com/wp-content/uploads/2018/02/Design-Thinking-600x340.png)
Who are you? Please describe yourself in 1-3 sentences.  Tetyana Drobot, Zuoz Alumni. I am an all-rounder with skills in different spheres: programming, design, teaching, consulting etc.
27.03.2019 15:25
Documentation
Worked on by Nikki
23.03.2019 13:30
Hackathon finished
23.03.2019 12:33
Documentation
Worked on by deltani
23.03.2019 12:07
Team forming
Gian245 has joined
23.03.2019 08:51
Documentation
Worked on by Nikki
22.03.2019 11:07
Documentation
Worked on by oleg
22.03.2019 10:00
Hackathon started
15.03.2019 09:59
Team forming
kenannur16 has joined
07.03.2019 08:40
Documentation
Worked on by deltani
07.03.2019 08:32
Team forming
deltani has joined
26.02.2019 12:45
Team forming
classowl has joined
21.02.2019 16:21
Team forming
Nikki has joined
21.02.2019 08:56
Documentation
Worked on by Nikki