Personal Learning Data Logbook
Enable students to record and use their learning data in a secure way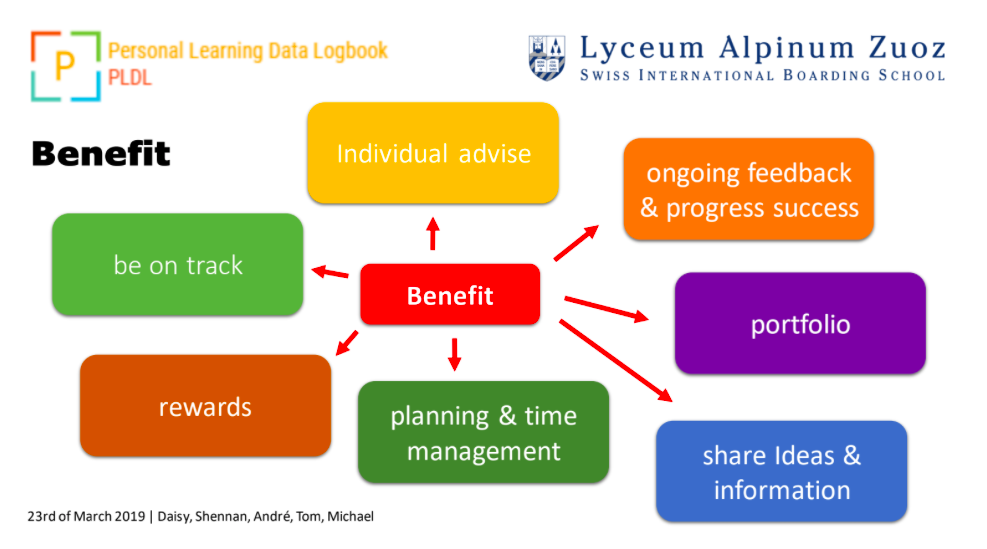 RESULTS
Learnings
Very different perspectives exist on this topic. The first question was: What's a learning data logbook?
Students perceive AI topics as creepy. They needed to be convinced that it can be a good thing.
Fun & colors are important to make products attractive for students!
Students have a clear opinion on what's good and what's bad. E.g. OneNote (too many functions) or UniFrog are terrible, but they have to use it. On the other hand, bear (also a personal notebook) is great to them.
On one hand an app or website shouldn't have too many functions, according to students, but they still want all functions for their logbook.
A logbook needs to combine all important datapoints and it should have a bot for interaction.
Achievements
We created mindmaps to document the benefits and content.
We invested a lot of time in understanding the students perspective and preferences.
A design of such a logbook has been created.
Links
Presentation: https://drive.google.com/file/d/1zFcRnoViov9YCyPzI2S6OT9lakMM73yF/view?usp=sharing
Team members
Tom
André
Michael
Daisy
Shenan
CHALLENGE
What's the problem you want to solve and why? Enable students to record and use their learning data in a se-cure way with a Personal Learning Data Logbook (PLDL). Many universities and further education institutes provide digital and virtual learning environments (VLEs). In recent years a new direction has been to extend these to support personal develop-ment planning (PDP) and student portfolio management. How can a personal data logbook support me in my lessons and future aca-demic and professional development?
What's the solution / project you are suggesting? A PLDL collects and stores all data recorded or generated by a student using digital and virtual learning environments. The student manages access rights for teachers, parents, school management, and others to selected data domains of his/her PLDL. Therefor the PLDL is not only a oneway personal learning data store but also a shared data container to analyse learning achievements and discuss and define future individual (personalised) learning improvement measures (personal develop-ment planning (PDP)) respecting student privacy. The PLDL also helps the student to establish a personal portfolio (e-portfolio) for both educational and professional applications. The PLDL has a generic architecture to provide data collection from different sources as well as data export to different platforms and longterm data preservation.
How could this idea be developed or tested at a 30-hours Hackathon? In a first step vision, purpose, context and principal privacy aspects of the PLDL will be defined. In a second step 3 to 5 PLDL use cases will be specified and discussed (PLDL users are students first hand but also teachers, parents and school management). Third different (high level) functional aspects of a PLDL related to the use cases will be designed e.g. a personal learning data analysis workbench, a data access control panel or data collectors (API). Fourth the results of steps 1 to 3 and the use of a PLDL will be discussed and future perspectives / next steps for a LAZ PLDL will be developed.
04.04.2019 09:42
Documentation
Worked on by Nikki
23.03.2019 13:30
Hackathon finished
22.03.2019 11:07
Documentation
Worked on by oleg
22.03.2019 10:00
Hackathon started
11.03.2019 08:06
Documentation
Worked on by André Golliez
06.03.2019 06:53
Team forming
André Golliez has joined